About Us
Experts in Design Education – Skyblue
Established in 2002, SKYBLUE INSTITUTE OF DESIGN has become one of the pioneers in providing professional design education in Gujarat. Best known for our creative pursuits, we have been an integral part of hundreds of students' endeavors to learn design excellence. This has not just brought acclaim and accolades to us but has also won students' trust and their families' faith.
Students from across Gujarat and other places in India come to Skyblue for entrance coaching and preparation for best design competitive exams like NID, NIFT, NATA, CEPT, DSK, MIT-Avantika, Pearl Academy, Parul University, DIA, ARCH, MIT, SRISHTI, GLSID, UID and other reputed design colleges across India.
Our institute provides professional guidance and training in Fashion Design, Interior Design, Jewellery Design, Fine Arts, Photography, Product Design, Graphic Design, and Illustration.
Our expert mentors are from top design institutes. They provide high-quality and rigorous design training to the students. At Skyblue the mentors and the students form a dynamic community in which creativity, critical thinking, innovative problem-solving, aesthetic understanding, and professionalism are explored.
Skyblue Institute of Design is successfully run by NID, CEPT, NIFT, and MSU alumni for several years. Our faculty design and compile exclusive course material based on the analysis of competitive exams of NID, NIFT, CEPT, NATA, etc., and according to the latest developments in the respective subjects.
We have had the opportunity of being the stepping stone in the success of hundreds of students. With our faculty's expert guidance and students' own hard work, our students have made to the esteemed design institutes and have created a niche for themselves amongst the design fraternity.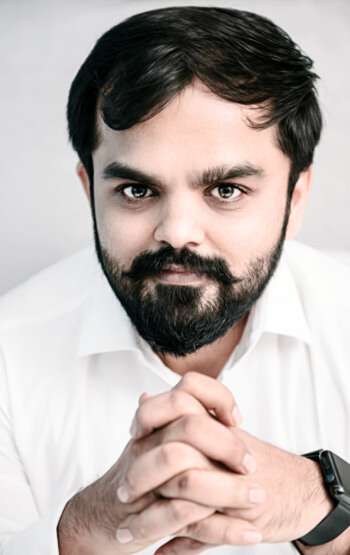 Director's Message
Greetings from Skyblue!
We believe that all of us should dream as wide as the Sky, because those who dare to dream only have the guts to realise it. Our institute, Skyblue, is one of the most renowned design institutes of Gujarat.
At Skyblue, we have been imparting professional design coaching and education since 2002. Though we had a humble beginning with one small institute in Ahmedabad, with perseverance, vision and team work today we have two branches in Ahmedabad and Bhavnagar together. We are a team of young and dynamic designers, alumni of NID, NIFT, CEPT and other reputed institutes of design, working towards excellence in design education. Our faculty members, experts and professionals are from design fraternity. They not only bring the best in their students but also make sure that each student gets through his/her dream design institute.
As a brand, we keep ourselves abreast of new technology, skills set, infrastructure and trends.
We have been instrumental in shaping the design dream of hundreds of students and we endeavour to guide and coach many more across India and abroad.
Vision
Skyblue endeavours to provide finest design coaching & training to students dreaming to make it big in design and architecture industries.
Mission
To set new benchmarks in design education, methodology, quality and success rate. Create a niche for the institute in the professional education & training industry.
Values
Our success largely rides on our ethical values. The core values of integrity, honesty, trust, responsibility, quality, teamwork, leadership and respect are an integral part of Skyblue's culture.
Infrastructure
Infrastructure is the first impression of any institute or organisation. Our infrastructure is synonymous to our approach of perfection. Skyblue's interiors provide motivation, guidance and inspiration to our student to design work of art that is aesthetically appealing and highly useful.
Location
One of the best in Ahmedabad, our institute is located on the Satellite road and is situated 8 kms from Ahmedabad railway station and 20 kms from Ahmedabad airport. The Skyblue institute has excellent ambience in the form of ambient air, calm surrounding and professional & organised structure.
Library & Resource Centre
While all the classrooms have the facilities such as glass table, white board, projector, AC etc., there are separate classroom customised for different courses and programs. We have a highly equipped library, classrooms and portfolio rooms.
Computer Lab
Keeping up with the latest technology, our institute's laboratory allows our student to stay abreast with advancement in the global world. All the computers are updated regularly with the changing scenarios. Each and every designs are created using iMac (Apple).
Free Wi-Fi Network
The whole institute has internet accessibility through Wi-Fi network which enables the students to access internet at any time within our premises. Students can use their laptops, mobiles, tabs, playbook, etc.
Accomodation Facilities
We help students, both girls and boys, with accommodation/ paying guest facilities in Ahmedabad.
For more information please call on 079 4005 0000
Why Skyblue Institute of Design?

State-of-the-Art Infrastructure

One-to-One Coaching
Flexible timing to suit students
Expert faculty from NID/NIFT/CEPT
Extra-curricular activities
Free Wi-Fi connectivity for students